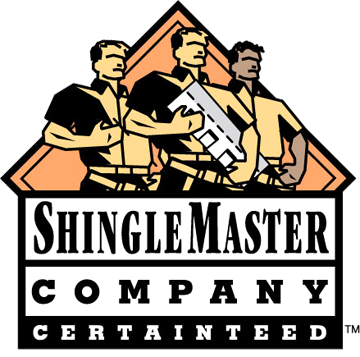 Hand nailing shingles gives more control over the fastening process. They can use a certain "feeling" to determinate if the nail is deep enough and applied on the right location.
Hand driving nails into shingles allows for the roofer to place the nail on the proper nail line and then drive the nail in. Ensuring that the nails are properly placed each and every time because the head of the hammer stops flush on top of the shingles.
Hand nailing gives your roofing contractor the chance to be more accurate.
Too much pressure leads to the nails being "over-driven" or "blown through". This means the nails have been blown too deep which will cause the shingles to potentially slide down the roof or blow off because they aren't held down.
The great thing about hand nailing is that the installers can feel the pressure while nailing. Because of this, it's not as common to have nails that have been over-driven when hand nailing.
This is especially useful when installing shingles over the roof's decking because a lot of the nails get driven between the wood without hitting anything solid. Hand nailers can feel when this happens and make corrections as they go.
Designer Shingles Landmark Series
Also known as architectural or dimensional shingles. These products are manufactured with two or more layers of asphalt that are fused together for a thicker and richer multi-dimensional appearance, and are engineered to replicate the aesthetics of wood shake and natural slate roofing.
Designer shingles are typically heavier than strip shingles and have improved warranty protection.
Traditional Landmark Shingle 225 lb per sq w 10 yr algae resistance
Dual-layered for extra dimensionality and protection from the elements
Offers the widest array of colors in the industry.
Independently certified as meeting the highest quality standards for roofing.
Landmark Pro is 250 lb per sq with a 15 yr algae resistant guarantee. This shingle also offers a variety of Max Def rich color.
15-year 110 MPH wind warranty (Upgrade to 130 MPH available. CertainTeed starter and CertainTeed hip and ridge required.)
The highest-quality laminated shingles available, offering a differentiated appearance or functionality that exceeds designer shingles. Apart from offering premium protection for weathering, luxury shingles provide stunning visuals, presenting the highest quality, coloration, and dimensionality.
These products offer the most realistic representation of old-world wood shake and quarried slate roofing.
Authentic depth and dimension of natural slate
Super Shangle® construction offers five layers of protection
Streakfighter® protection against algae
Authentic depth & dimension of natural slate.
All colors are available in an Impact Resistant version.
Superior resistance to fire and high winds.
Installed with high performance starter and Shangle Ridge cap.
Why Choose CARRIAGE HOUSE®
Hand-crafted scalloped cut that mimics natural slate
Protection against algae.
Superior resistance to fire and high winds.